Home > Blog > Business and Law
All You Need to Know About PASMA Training
All You Need to Know About PASMA Training
Do you or someone in your organisation need PASMA training? Find out all the information you need to know right here!
PASMA – The Prefabricated Access Suppliers' and Manufacturers' Association. A governing body that ensures proper standards of training for assembling mobile access towers, as well as dismantling, moving and inspecting them too. Why? Because health and safety that's why! It's crucial to ensure the safety of everyone who uses these mobile access towers, and to make sure that there is a proper set standard of training all over the country.
In this post, we'll be covering everything there is to know about correct PASMA training. From what it is, what it covers and where you can get yourself or someone in your company qualified. We'll even explain what mobile access towers are – for the true beginners. So, if you're looking to undertake PASMA training or just want to know more about it, you're in the right place. Welcome to your introduction to PASMA training.
What is PASMA training?
Like we've said, PASMA training specifically focuses on setting a proper standard for training across the UK. Mobile access units need to be assembled, dismantled, moved and inspected in a set way – so, PASMA surmised that they'd create a set standard for this. As a one-day course, this qualification is valid for 5 years, and is essential for tower users (you won't be able to work with mobile access towers if you're not certified).
This PASMA training also offers variants courses too, for different levels required. These include: training for Tower Users for Low Level Access, Towers for Managers and Working at Height training too. Training of this level ensures that all that work with mobile access towers are certified and qualified under the same governing body.
Why PASMA training?
As part of the 2005 Work at Height regulations, it's essential that all those working at a height undergo this training. Proper training and knowledge is a measure that helps prevent accidents or incidents occurring in the work place – especially when working at height is involved. This training ensures that someone is qualified to assemble, move, inspect and dismantle mobile access towers.
According to PASMA, this training is in place to ensure that someone competent – with the correct, knowledge, experience and training – is there to carry out the duties needed to ensure the safe use of these towers. This training provides an individual with all the relevant skills and knowledge, including risk assessment, assembling and inspecting the tower in the correct way (whilst keeping a record of each inspection) as well as meet the set regulations of inspection and assembly.
This training becomes essential for anyone who falls under the Work at Height (2005) regulations, whether they be employed by a company or self-employed. If they work with mobile access towers, over a certain height, PASMA training is vital.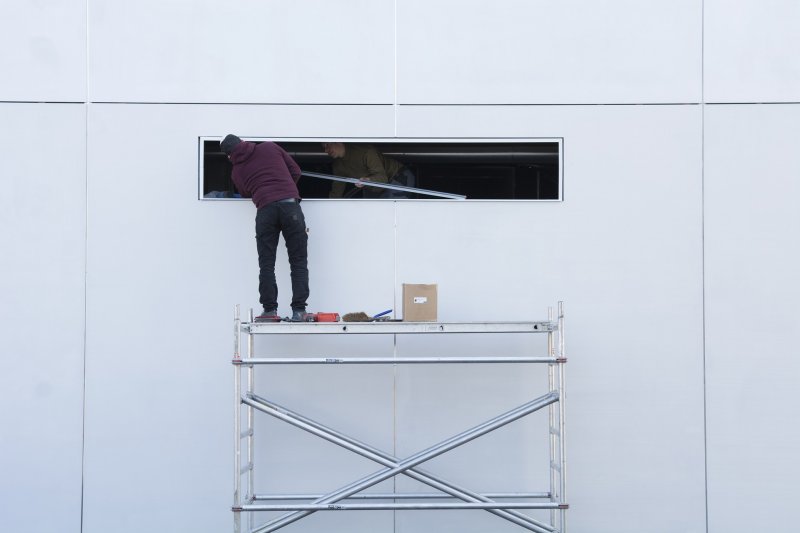 Mobile Access Towers
If you're already familiar with the term, this section may not be for you… However, if you're not – you're in the right place. Mobile Access Towers are essentially scaffolding, but they differ greatly. For one, they're much quicker to build, and dismantle, as well as being able to be moved more easily around a select area – due to having wheels on their base. They can be built to different heights, to accommodate difficult positions and navigate hard to reach areas. These towers can be built between 2.5 to 8 meters outdoors, and inside can be built to heights between 2.5 and 12 meters indoors. These can either be freestanding or with stabilisers or a ballast.
These specific towers should only be erected where the ground is solid and stable, because of their design. It's also essential to make sure these towers, if not assembled on solid ground, should make a strong foundation to put this mobile access tower up on. When it comes to accessing the tower, it must be noted that workers should not climb the structure itself. Instead, must make use of built in stairs or ladders to access the tower. All of this is covered in greater detail throughout the PASMA training course.
Where to find PASMA training
There are loads of places, all over the country where you can receive sufficient PASMA training. All you need to do is do a little internet search to find the relevant centre to undertake your training. North, South, East and West – there's places all over the UK that can ensure you or your staff become qualified for the proper use of mobile access units. This training is an essential part for anyone that falls under the Work at Height (2005) regulations and uses mobile access towers in their work place.
To ensure the safety of you or your staff, you need to appoint someone to undergo this training. It's a vital part of any organisation that works with mobile access towers. On this course, you'll understand all the potential risks and hazards involved, as well as learning how to assemble, dismantle, move and inspect these towers properly.